MADRID BARAJAS AIRPORT (MAD) INFORMATION
Origin
Airline
Flight no.
Scheduled
Est./Actual
Status
No flight arrivals were found at Madrid Barajas Airport.
Destination
Airline
Flight no.
Scheduled
Est./Actual
Status
No flight departures were found at Madrid Barajas Airport.
Car Hire at Madrid Barajas Airport
UNBEATABLE VALUE CAR RENTAL
Free Amendments | Free Cancellations | No Card Fees




Madrid Barajas Airport Madrid Barajas Airport
Adolfo Suárez Madrid-Barajas Airport, Av de la Hispanidad, s/n, 28042 Madrid
phone +34 913 211 000
phone+34 913 936 119/+34 917 466 439 (Lost + Found)
emailclientesmad@aena.es
emailmad.seg.objetosperdidos@aena.es (Lost+Found)
Facts and History about Madrid Barajas Airport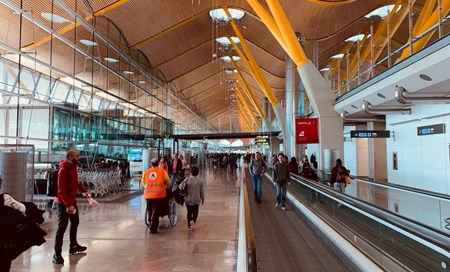 Adolfo Suárez Madrid-Barajas International Airport (Aeropuerto Adolof Suárez Madrid-Barajas in Spanish), also commonly known as Madrid-Barajas, Madrid or Barajas Airport, is the second largest airport in Europe by physical size. It is located within the city limits just northeast of the Spanish capital Madrid, in the region of Madrid in central Spain. It serves both domestic and international passengers, and it also serves as a cargo airport.
The airport was first constructed in 1927, but regular commercial flights, domestic and international, weren't established until the early 1930's. The first passenger terminal was built for the capacity of 30,000 passengers a year. To begin with the flight field was just a large circle of natural grass with white borders and the name Madrid inside of it. It was paved in the early 1940's. The first paved runway opened in 1944, and by the end of the decade the airport had 3 runways, none of which exist today. Over the years the airport has kept expanding in both size and importance and today it has five passenger terminals; four main terminals, T1-T4, and one satellite terminal, T4S. T4 and T4S are the newest terminals and they were opened in 2006, and they were built to give travelers a stress free start to their journeys. The 5 terminals together saw a total of 61,734,037 passengers travel through the airport in 2019.
The Adolfo Suárez Madrid-Barajas airport announced in 2019 that they are planning a significant expansion to increase passenger capacity from today's 70 Million passengers to 80 Million passengers, and also to renovate the existing installations to bridge the architectural gap between the terminals.
The airport was renamed from Madrid-Barajas Airport to Adolfo Suárez Madrid-Barajas in 2014 after the death of the first Spanish Prime Minister, Adolfo Suárez, after the restoration of the country's democracy.
Today it has 4 runways, 3 asphalt and 1 asphalt/concrete, of between 3,500-4,350 m/11,500-14,300 ft. with a total of 426,376 aircraft movements in 2019, elevated approximately 600m/1960 ft. above sea level.
The airport serves as the primary hub and maintenance base for Iberia and Air Europa airlines.
The IATA Code is MAD and its Airport ICAO Code is LEMD.
The nearest international airport to this airport is Zaragoza Airport (ZAZ) located approximately 300 km/186 miles northeast of Madrid and the Madrid-Barajas Airport, and approximately 12 km/7.5 miles west of the town of Zaragoza in northeastern Spain.
The terminals at the airport are each divided into several floors with arrivals mainly on the ground floors and departures mainly on the upper floors.
There are plenty of retail shops, restaurants and water fountains in all the terminals and you can also find pharmacies, post offices and medical care among other services and amenities.
Arrivals, Departures and Airlines at Madrid Barajas Airport
Family Friendly
Spain is a generally family friendly country and the Madrid-Barajas airport is no different. There are several playgrounds located in all the departure areas in all the terminals. Breast feedings stations can be found on Floor 1 in both T2 and T4, and there are family security check-ins in terminals T1, T2 and T4.
Pushchairs/strollers for babies can be found in the departure areas on Floor 1 in all terminals, except T4S.
Disability Access
The airport complies with the EU regulations for accessibility for disabled travelers and offers an assistance service for those with reduced mobility. It is recommended to book it through your airline at least 48 hours ahead of your arrival at the airport to be guaranteed the assistance you need. For more information please call the airport on the number listed below.
Parking
Madrid Airport has several car parks ranging from low-cost to VIP located at the different terminals. Whether you are only staying for 30 minutes to pick someone up or drop them off, going on a long journey or you are just flying out for a day or two there is an option for you.
ATM's, Bank Branches, Currency Exchange
ATM's are located in several places in all the terminals, and are easy to find. Two major banks, BBVA and Madrid Caja, are represented at the airport, with branches in both Terminal 2 and Terminal 4. There are currency exchange offices located in all the terminals.
Smoking at the Airport
Smoking inside the airport is strictly prohibited, but outside the terminals there is either free smoking or designated smoking areas, so make sure to smoke before heading to security.
WiFi
Free WiFi service is offered at Madrid-Barajas Airport. Please connect to the 'AIRPORT FREE WIFI AENA' network and register via email, Facebook, LinkedIn or Aena Club Cliente. The login is quick and easy, does not require any codes, and gives the user the option to register multiple devices. For assistance please contact +34 900 928 053
Car Rentals
There is a wide range of rental car providers at Madrid airport, located in or outside of terminals T1 and T4, including Avis, Goldcar, Firefly, Alamo, Centauro, Sixt, InterRent, Enterprise and Europcar.
Transfers
There is a good selection of transfer options to choose from at the airport, suitable for all budgets, this includes taxis, buses, trains and metro.
In-airport Transfers
There are free airport shuttle buses transporting people between the different terminals, except for T4S, as well as to and from some of the car parks.
There is an APM train (Automatic People Mover) moving people with boarding passes between T4 and T4S.
Hotels near Madrid Barajas Airport
There are a number of hotels to suit all budgets and requirements at or near Madrid Barajas Airport.
Additional Services and Amenities at Madrid Barajas Airport
At Madrid Barajas Airport you will find the usual array of bars and restaurants, airport lounges and shops.
Things to do in Madrid
There are a number of activities to suit all ages and interests in the region - see a selection of tourist activities in Madrid, Spain.
Airport Contacts
Address: Adolfo Suárez Madrid-Barajas Airport, Av de la Hispanidad, s/n, 28042 Madrid
General phone: +34 913 211 000
General email: clientesmad@aena.es
Lost and found email: mad.seg.objetosperdidos@aena.es
Lost and found phone T1: +34 913 936 119 (arrivals hall, T1)
Lost and found phone T4: +34 917 466 439 (arrivals hall, T4)
Official website: http://www.aena.es/en/madrid-barajas-airport/airport-guide.html
Local Information
Drive on: Right
Electricity: 230V/50Hz
Plug: C, F
Currency: EUR - Euro
Services at Madrid Barajas Airport
Useful Information about Madrid Barajas Airport