Madrid Barajas Airport Departures (MAD)
Not all flights may be showing. If not available use search above to find your flight by airline, airport or flight number.
Destination
Airline
Flight no.
Scheduled
Est./Actual
Status
Quito (UIO)
Air Europa
UX39
01:45
Scheduled
Palma de Mallorca (PMI)
Swiftair
WT106
02:00
Scheduled
Casablanca (CMN)
Swiftair
WT152
05:00
Scheduled
No flight departures were found at Madrid Barajas Airport.

Flight Departures at Madrid Barajas Airport
The Adolfo Suárez Madrid-Barajas Airport has four main terminal buildings, T1-T4, and 1 satellite terminal, T4S that all handle both departures and arrivals.
All terminals are divided into several levels with departures - check-in desks and check-in machines, and security - mostly located on the upper floors, although some check-in machines can be found on the ground floors, as well as minor security desk points, including certain security check points for families. The boarding gates are located on floors 0 or 1, and in T3 also on floor 2.
Most airlines offer online check-in and mobile boarding passes for your convenience. Please consult your specific airline.
Fast track is available for some passengers and airlines, please contact your airline or the airport for more information.
VIP Lounges
All terminals have at least one VIP Lounge, and T4 has 2.
For more information please contact the airport on +34 913 211 000
Shops and restaurants
All terminals have an assortment of retail shops and convenient stores as well as both domestic and international restaurants and cafés to choose from for both travelers and visitors, with Terminal 4, being the newest terminal, having the largest selection. There are also vending machines and water fountains to be found all over the airport.
ATM's, bank offices, currency exchange
ATM's are well represented in all terminals and are easily located by following the signs.
Two major banks have branches at the airport, BBVA and Madrid Caja, with offices in both Terminal 2 and Terminal 4. For those wanting to exchange currency upon arrival there are currency exchange offices located in all terminals.
Other services and facilities
Post offices are located in both T1 and T4, open on weekdays and Saturdays. There are also pharmacies, as well as 24 hour medical centers, located in T2, T4 and T4S.
Chapels can be found in T1, T2 and T4 with masses taking place through-out the week.
You can find tourist information in T1, and an information point in T2.
WiFi
Free WiFi service is offered at the airport. Please connect to the 'AIRPORT FREE WIFI AENA' network and register via e-mail, Facebook, LinkedIn or Aena Club Cliente. The login is quick and easy, does not require any codes, and gives the user the option to register multiple devices.
For assistance please contact +34 900 928 053
Airport Transfers
You have many options on how to get to Madrid-Barajas Airport before your flight. If you are planning to take your own car there are both long and short-term parking available in several price classes.
Rental car companies are located by terminals T1 and T4.
Trains stop at T4.
Underground stops at all 4 main terminals.
Buses stop in different places depending on which bus you take to the airport.
Free airport shuttle buses are available to transfer you between terminals if you arrive at a different terminal than you are travelling from.
Smoking at the airport
Please be advised that smoking is only permitted outside the terminal buildings, so please make sure to smoke before entering for your departure. Some terminals might have dedicated smoking areas while others might not.
Was your flight delayed or cancelled?
You may be eligible to receive up to 600 EUR compensation per person in your party..
Claim Now!
Beat the Queues
Don't stand sweating for 45 mins waiting for Security. Get a fast track and get through in 5 mins or less.
Book now
Lounge like a VIP
Avoid the crowds. Get discounted access to the VIP airport lounge. Its not as expensive as you may think.
Book now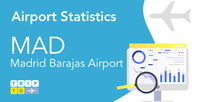 Madrid Barajas Airport Sees 11.41% Surge in Q3 2023 Passenger Volume, Approaching Pre-Pandemic Levels